The Facility for Youth Development (FAYODE) has proceeded to the third beneficiary of the programme to support the growth and expansion of businesses in the rural community of Joga Orile in Ogun State. The second beneficiary - Ms Aishat Odegbaro – is a Yam Miller within the community. The high school graduate started the business after high school and also works as a pump attendant in a nearby gas station. She runs the milling enterprise in partnership with her mother.
"Sometimes, I have plenty dried yam/cassava to grind but with these little engines (referring to her old machines), most times I default in meeting their demands", the twenty year old lamented on FAYODE's initial visit.
In assisting Aishat's business to increase her productivity and meet customers' demands on time, FAYODE provided her with a brand new larger GX420 (15HP) engine and a bigger grinding mill.
The Chairman & Chief Executive of FAYODE Dr. Kanayo F. Nwanze presented the equipment and reminded the beneficiary of the core purpose of the Facility – Community Development through Youth Empowerment. She was also reminded of routine visits by FAYODE to monitor growth and community impact of the business. "In my professional travels around the world, I have come to realize that rural people do not necessarily need millions to transform their lives; with little support they can achieve much" the chairman said in his remarks.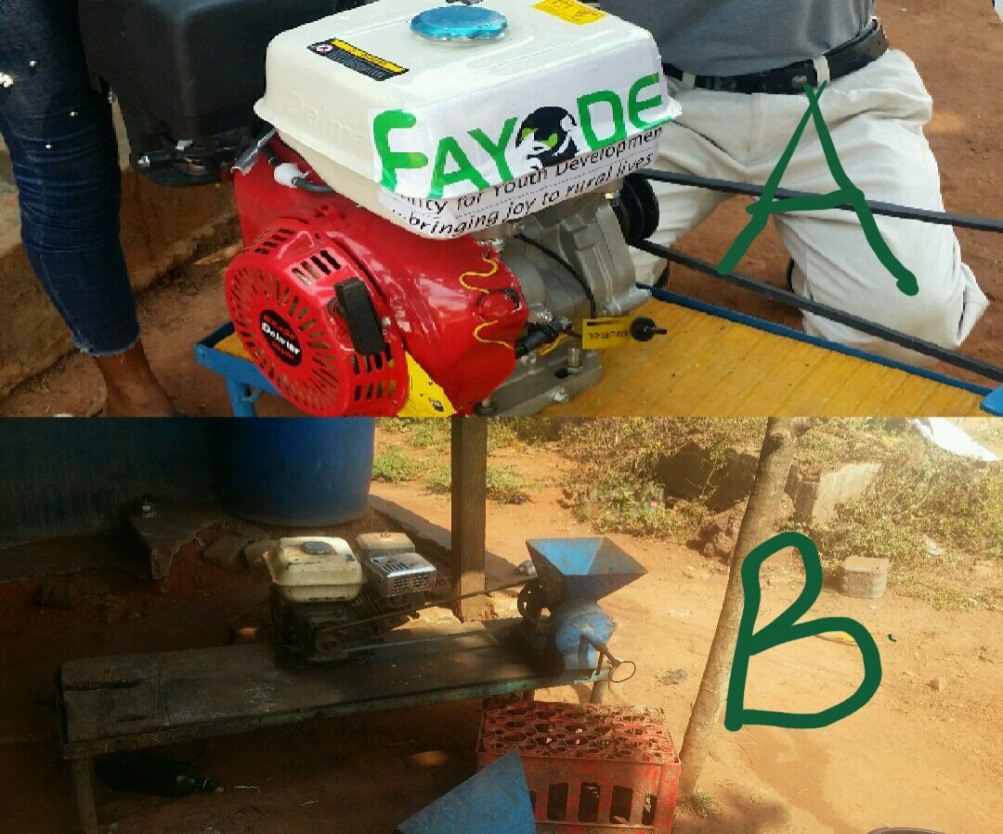 "The first time they came (referring to FAYODE) they met my mother who was assisting me. When they came the second time I ran away because I did not want them to see me. I thought they were fraudsters. Now I can see how real FAYODE is. I will build a bigger shed for the machine, employ somebody else to assist me because of the expansion and now increase my production". Aishat said happily.