The Facility for Youth Development (FAYODE) has recorded the first female beneficiary of the financing scheme offered to support the growth and expansion of entrepreneurial skills of rural young women and men in order to encourage them to become self-employed and facilitate the employment of others.
The female beneficiary, Salimot Jayeola emerged as one of the grantees of FAYODE after meeting the set conditions that qualifies a potential candidate for the grant component.
Salimot, a food vendor whose business was amongst the five businesses identified with growth potential  at Joga- Orile village in Yewa North Local Government area of Ogu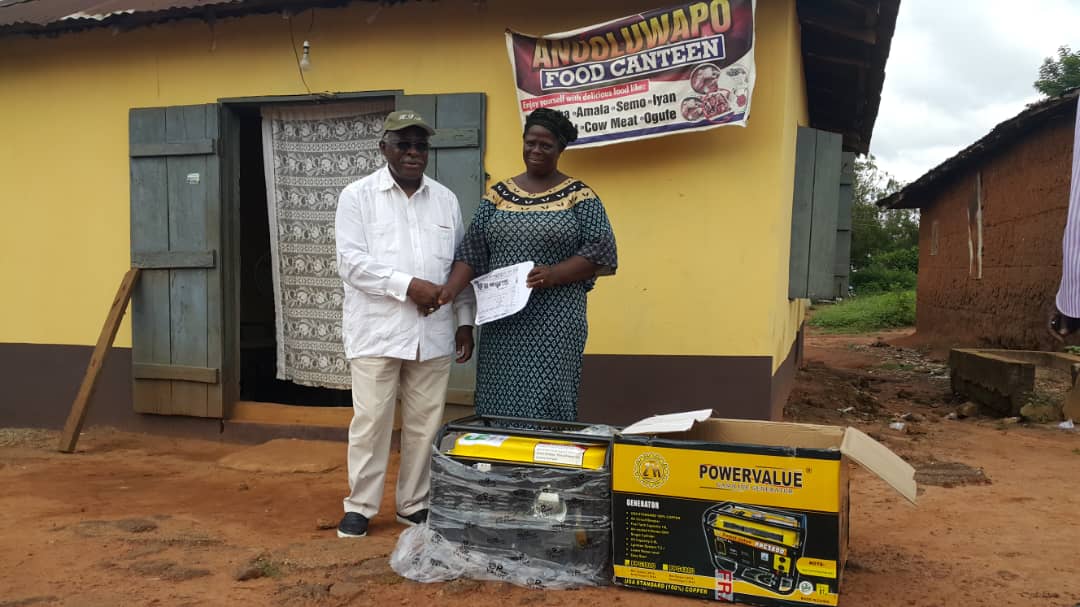 n State has been in the business for over 10 years.
Operating under the name Anuoluwapo Food Canteen, Salimot stated that she started her business on a small scale by hawking from her village to neighboring villages to sell food. She however decided to expand by opening a canteen using the small savings she had made as a member of  one of the local cooperatives in the village.
The thirty five year old mother of 3 added that although she enjoys patronage from lots of people within the village and neighboring villages, the challenges faced with unreliable electricity supply had restricted her operations especially at  night.
To assist Salimot in addressing this challenge, FAYODE identified electricity supply as the major constraint to the expansion of her business and offered to provide her with a new 3.5KVA generator.
Presenting the generator to Salimot on the 2nd of November in Joga-Orile,  Dr Kanayo Nwanze, Chairman and Chief Executive of FAYODE,  encouraged the beneficiary to be prudent and to ensure that she utilizes the opportunity given to her by the facility to expand her business, enhance the physical environment of her canteen,  and contribute to the economic development of the community.
He added that the team from FAYODE will carry out routine checks to monitor the growth of the business and assist when the need arises.
Appreciating the FAYODE team for the rare opportunity given to her, Salimot expressed joy and promised to use the gains in developing her business.
"When the team came with the opportunity, we thought it was one of the usual promises from government and organizations especially now that elections are only a few months away. We did not take it serious at first but with their level of persistence and what I have seen so far, I now know they are more credible than we thought. I will put in my best to ensure that they see more improvement in my business whenever they come. This is going to assist me. I have a refrigerator that I can now use because there will be assured  electricity and I will now look for money to stock my refrigerator with table water and drinks so I can sell with food'  she said.
Joga-Orile, a rural community in Ogun State is the pilot location for the implementation of the financing facility by FAYODE.